Ishtiak Ahmed Taher, SHRM-SCP
"By the way, please do not send us any CV of any of our ex-employees who left us in the past and now want to rejoin. As per our policy, we do not rehire any ex-employee" – that was the clear instruction that I received from one of our clients who assigned us with an Executive Search job recently. Curious as ever, I asked back, "Is there any specific reason why you do not want to rehire your ex-employees?". By the tone of his voice, it was very clear to me that the HR Manager did not like my question and he did not even try to hide his irritation at me with a blunt reply, "It is just a policy we strictly adhere". That was the end of the discussion, period.
Yes, you are right; I am talking about boomerang employees. A boomerang employee is an employee who chooses to leave an organization (either for professional or personal reason) for another organization and then rejoins later to work for the same organization again. There is no doubt that the decision to rehire an ex-employee is not always a very simple one in business. It is almost like what Forrest Gump's mama always said, "Life was like a box of chocolates. You never know what you're gonna get."
Although I am not privy to any credible data, but from my personal experience, I believe majority of the organizations in Bangladesh follow a "no-hire" policy for boomerang employees. But there are also exceptions:
This incident took place more than one and half a decade back at the beginning of my career in human resources. One of our very high performing employees chose to migrate overseas with his family and as usual he submitted his resignation. With a bit of reluctance from the top leadership, he was duly released from the company. However, after he left Bangladesh, his life at the "promised land" did not quite turn out to be what he expected. After a bit of hesitation, he wrote back to the Managing Director and expressed his interest to return and rejoin the company. A typical Management would perhaps say, "I told you…". But luckily for him, this was one of the most progressive and preferred employers in the country. And management's view was also very clear, "Look, reality is, we can't retain our talents in this country. And here is a guy who has understood that it was not the right decision for him and wants to return. Why should we not let him?" The gentleman was reinstated in his previous position with same terms of employment.
However, I am not writing this piece to give my verdict on hiring boomerang employees as "good" or "bad". Like the two sides of a coin, there are also pros and cons in hiring boomerang employees. But, let us first take a look at why employees chose to leave an organization in the first place. Among many, following are the most common reasons for voluntary exits:
To further career growth, learn new skills or gain new work experience in a different culture
To earn higher salary and benefits
To avoid working under a supervisor or manager (or with a team) with whom the employee does not have a good relation.
To pursue a better work-life balance
To work in a location that is more convenient for the family
To permanently migrate overseas
For personal life events like pursuing higher studies, maternity related sabbatical or to care for an ailing family member or even for personal health related issues
To pursue the challenge of entrepreneurship etc.
Now let us take an objective view of about the positives and negatives of rehiring boomerang employees. Let us start with the negatives. Some of the most prominent cons (or perception as cons) of hiring a boomerang employee are: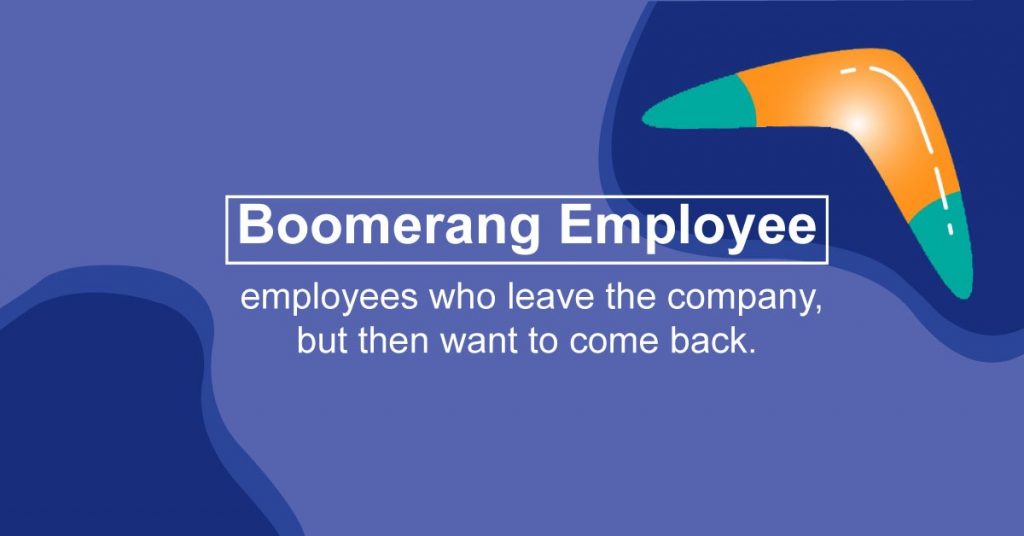 The risk of setting a wrong precedence of "rewarding disloyalty". Particularly, if the employee is brought back too early (with a higher salary and/or position) after s/he had left the organization for a rival or another organization
If the gap between the two tenures is longer, s/he may return with a perception about the organization that may not be valid anymore. With time, both the employee and the organization have moved forward and are no longer a "right-fit" for each other.
The risk of reigniting any previous bad relationship with a co-worker or a supervisor and negatively impacting the overall work environment within the team or even in the organization as a whole.
Some years back I used to work for a fortune 500 global company as the Country HR Manager. One day, the global CEO of the company announced (through the company's internal portal) that "I would like to kill the myth that once you leave this organization, you are no longer welcome". He added, "Our alumni are a serious source of talent for us and they are welcome to apply for new opportunities within the company". However, what is important is that he did not try to portray this decision as a "nice" or "good' thing to do. Rather he justified this as a decision based on solid business logic:
If people have left because we could not offer the right opportunity at the time, and there now is a match between their qualifications and opportunities we can offer, why should we not welcome them back?
The individual may be bringing along new experiences and skills that may add significant value to our organization.
Where the individual has gone to work for a rival in the market, it has been observed that she comes back with important insight about the rival as well as some of their customers have also followed her to come to us.
In addition to what has been already been mentioned above, an organization can get some more benefits by hiring a boomerang employees:
The recruitment time and cost could be significantly lower than that of hiring a new employee
The onboarding time is likely to be minimum as s/he is already familiar with the systems, processes and culture of the organization.
The organization has clear knowledge about the employee's past performance which significantly reduces the risk of his or her non-performance
However, HR professionals and employers must be cautious about hiring boomerang employees. Particularly, proper due diligence should be conducted to validate such employee's record of past performance, disciplinary issues and the circumstances of leaving the organization last time around.
So, it must be said that; leaving an employer is not necessarily a straight forward sign of an employee's lack of loyalty towards that employer. People leave an organization for various genuine reasons, both professional and personal, without having any negative feeling towards that organizations. Hence it is also very important for employees to not "burn the bridge" while exiting an organization. And for the employers, it has been repeatedly proven that an organization's alumni, even if they do not return, could be great ambassadors for the employer brand of that organizations. Hence there is a "win-win" business case for maintaining a positive relationship with the alumni of an organization.
Finally, it must be reiterated that hiring a boomerang employee is not a very easy decision in business. As the discussion above shows, there are clear advantages as well as some disadvantages in this process. However, what is a sensible thing to do is not to take a very rigid stance against hiring boomerang employees. While your organization should not be seen as an open bus terminal where employees can come and go at will, you may also lose big time if you shut the door permanently for your high performing ex-employees. Like everything else in life and also in business, a more balanced approach and open mind may create significant value for both the parties.
Ishtiak Ahmed Taher is the Lead Consultant at WorkSMART Consulting, a Management and HR consulting firm. Ishtiak can be reached at iat1502@gmail.com