By Ishtiak Ahmed Taher, SHRM-SCP
---
Forming SMART Objectives is undoubtedly one of the the most talked about and practiced topics in the employee performance management space in the corporate world today. Social medial is replete with posts on different organizations rolling out KPI (Key Performance Indicator) based performance management system. Needless to say, our performance goals need to be Specific, Measurable, Achievable, Relevant and of course Timebound. However, while setting of SMART goals is only the beginning, it will only make sense if these goals are diligently and methodically executed. Ironically, we do not see much excitement around the execution of these SMART goals.
To begin with, we need to understand why the objective needs to be SMART? Put simply, this is a unique and efficient way to motivate the employees to perform as per the expectation set by these goals. Edwin Locke, an American Psychologist, through his "Goal-Setting theory of Motivation" in 1968, showed a clear roadmap on how to set and then efficiently execute these SMART Goals. Locke emphasized on SIX key components for effective execution of a performance management process:
Clarity: Performance goals need to be clear; i.e. SMART. Instead of just saying "increase sales", you should tell, "Increase sales by 15% within next 12 months". That removes all ambiguity from the goal and gives it the necessary clarity it demands.
Challenging: Your goals need to be "stretched" yet achievable. If the goals or the targets look like a "walk in the park" for your sales team, you are likely to leave money on the table.
Commitment: Goals are meaningless if the people or the concerned team members are not committed to pursue these goals. As an organization, you are unlikely to generate enough excitement surrounding the performance goals if these goals are thrust downward through a "Top Down" approach. Best way to enthuse commitment about the goals is to involve the team in the goal-setting process. Once your team members are given the opportunity to participate and "be heard", they will definitely "own" their goals and be committed to pursue respective goals diligently.
Control: Commitment towards achieving the goals may not come if the team feels that the they have hardly any control over achieving their goals. For example, a "micro-managing" sales manager may completely disempower the sales team. If they are not empowered and allowed the necessary discretion or creativity to pursue their respective goals, they may lose steam to pursue their goals. Similarly, other factors like shortage or inferior quality of products, lack of product knowledge or selling skills (due to lack of training) or a highly volatile market may also dampen the control factor.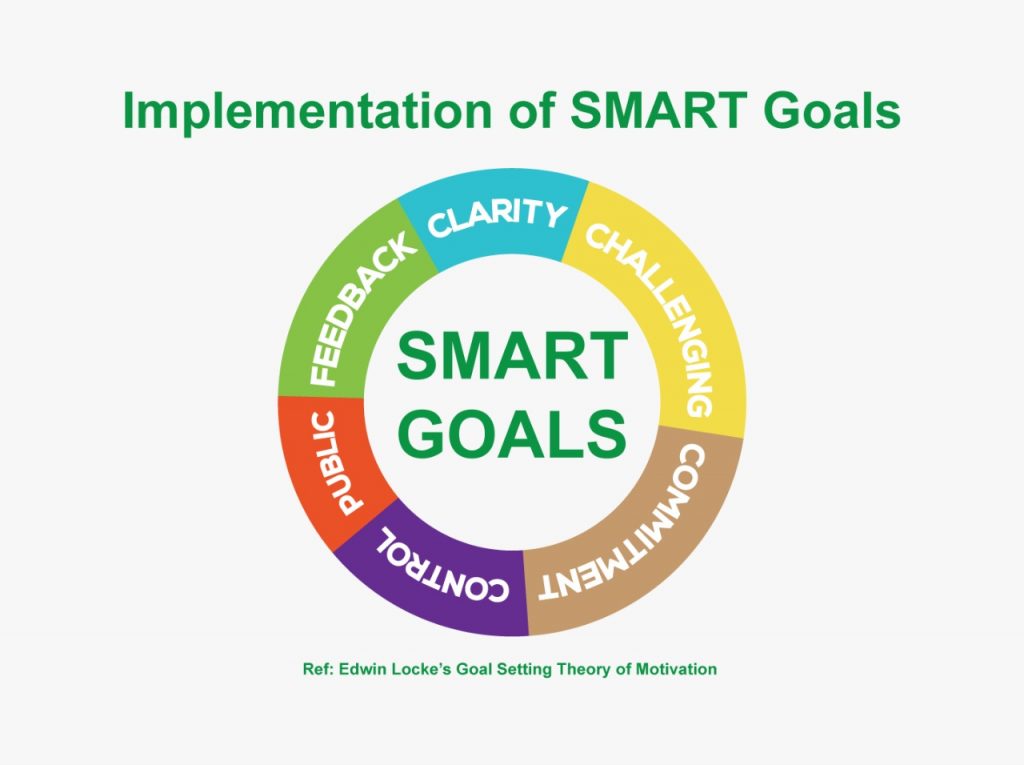 Publicly Communicated: Execution of goals works best when the goals are clearly and publicly communicated. If the goals are so called "secret" or privy to only a few people in the organization, it is like playing a game of football without a goalpost for rest of the organization. Moreover, a public communication also creates the necessary "healthy pressure" surrounding the consequence of not achieving the goals.
Feedback: Feedback is perhaps the most underrated component of the performance management jigsaw puzzle. Number of managers who believe that "just rolling out the SMART objectives is enough for execution" is not very less. Although, organizations spend millions in designing and developing new state of the art performance management system, they inadvertently miss the most important element of the process; i.e. training the managers on the importance and technique of giving effective performance feedback to team members. SMART objectives lose its true value without continuous (both informal and formal) and SMART feedback. Sweeping feedback like, "you are doing great" or "your customer handling style is poor" will not be very helpful for execution of goals or the performance improvement of the concerned employee.
There is an "apathy" towards academic theories among practitioners or professionals in general. Academic theories are tagged as necessary or relevant for academicians and students only. But there are numerous studies that show that professional practices or management techniques work best and becomes sustainable when they are backed by sound academic research and theories. Otherwise, there are many examples of "great management practices" that soon turned in to a management fad and lost in to the oblivion of corporate black hole. Although, in context of the rapidly moving world today, 1968 may look way back in the history, but Edwin Locke's "Goal Setting Theory of Motivation" could not be more relevant today. Practical implementation of this theory is immensely valuable not only for organizations and leaders but also for the HR practitioners who own and drive the performance management process in most of the organizations. This could help you laying down the foundation of instilling a performance culture across your organization.
Ishtiak Ahmed Taher is the Lead Consultant at WorkSMART Consulting, a management and HR consulting firm. Ishtiak can be reached at iat1502@gmail.com